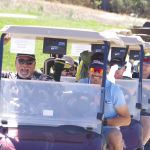 kfrank_kristen@campbellchamber.net
The Campbell Chamber Community Foundation celebrates 58 years of fundraising at the annual golf tournament.
This year, the Campbell Chamber Community Foundation golf tournament will celebrate its 58th year. Over 100 golfers will enjoy 18 holes of golf at Cinnabar Hills Golf Club along with an awards banquet and auction.
Tournament History
The first Campbell Chamber golf tournament was held in 1965. Unfortunately, there isn't much, if any, documented history about the earliest days of the event, although the events used to be themed and players used to be encouraged to decorate their golf carts. The tournament has always been a popular way to connect members for a day filled with camaraderie, networking and raise money to benefit the Campbell Community Toy Program, the Chamber's Relay for Life Hospitality Tent, and more recently, funding the Foundation Scholarship Program.
The Campbell Chamber Community Foundation, a 501(c)3, was launched in 2012 as the charitable arm of the Chamber. The tournament officially became a Foundation fundraising event five years ago when Ken Johnson became Chamber Executive Director. Moving the tournament under the Foundation's charitable umbrella made sense, considering the event's fundraising history.
Tucked in the hills south of Silicon Valley, Cinnabar Hills Golf Club blends championship golf with spectacular views. Designed by award-winning architect John Harbottle III in 1998, each hole has been crafted to maintain the natural slope and to protect the native wildlife. The Golf Club was ranked #17 on Golf Advisor's "Best of 2018: California Golf Courses" list.
Chamber members since 1956, John Kirkorian and Kim Brodnik, owners of Kirkorian Enterprises LLC, were avid supporters of the golf tournament. The Company owns and operates shopping centers and other commercial properties, and, according to another longtime Chamber member, past Board President and Citizen of the Year, Dr. Art Low, were in partnership with Cinnabar Hills Golf Club.
Cinnabar Hills became the tournament's primary venue, although there were a few years where it was held at other local golf clubs, including Los Lagos.
Tournament Format
The tournament's shotgun start and scramble format ensure a fast-paced event for beginner, intermediate and accomplished golfers.
During a shotgun start, each foursome tees off at the same time at a different hole. This format works well for tournaments, as it allows many participants to move quickly through all 18 holes.
In a scramble format, all players in a foursome hit from the same location on each shot, with the team selecting the best ball for their next shot. This continues until completion of the hole. Scrambles are golf's most used format for tournaments, allowing golfers of all levels to play on a foursome. A scramble results in lower scores, quicker rounds, and team spirit.
Chamber Cup
In 2019, the Campbell Chamber challenged teams from the other local Chambers of Commerce to compete in the Chamber Cup. The winning chamber team will hold the Chamber Cup trophy in their office until the next Chamber Cup event. To date, the Campbell Chamber holds the trophy, but we are looking forward to a friendly competition for the Cup from other South Bay Chambers.
Tournament Sponsors
In addition to players and foursomes, the Chamber is looking for local businesses to sponsor the tournament. A variety of sponsorship opportunities are available, enabling companies with varying promotional budgets to participate. Companies can also donate items for the live and silent auctions, drawings, and swag bags, which are handed out to each player. If you're business is looking for ways to promote a product or service, a tournament sponsorship could be right for you.
Tournament Details
Date: Wednesday August 23, 2023
Time: 12pm to 8pm, 1 pm shotgun start
Place: Cinnabar Hills Golf Club, McKean Road, San Jose
Cost:  Individuals: $225, Foursomes: $900 – Early Bird discounts are available through July 14, 2023
Included in fee: 18 holes of golf, cart, swag bags, boxed lunch, awards buffet dinner, auction and drawings
Deadline to Register: August 11, 2023
For Tournament Info, Registration & Sponsorships, visit CampbellChamberFoundation.org