Campbell is a friendly, down to earth city located right in the heart of the Silicon Valley.
Simply stated, Campbell is the place to be. Whether you want a place to settle and start a family or you are looking for an 'economic hot spot' to start a business, Campbell hits the mark. The phenomenal success of the City of Campbell can be credited to an Esprit de Corps existence in which there is cooperation within the entire community. This is a cohesive community in which City Officials, Chamber of Commerce members, Volunteer Service Organizations, Community leaders and the Citizens of Campbell work hand-in-hand for the betterment of the community.
The charm of Campbell offers its residents an unparalleled quality of life including highly rated community events such as Boogie – Campbell's Music Festival and Oktoberfest, recreational activities, shopping & dining and a variety of places of worship. With its temper­ate climate, excellent schools and historical small-town feel, Campbell continues to be one of the hidden gems of California.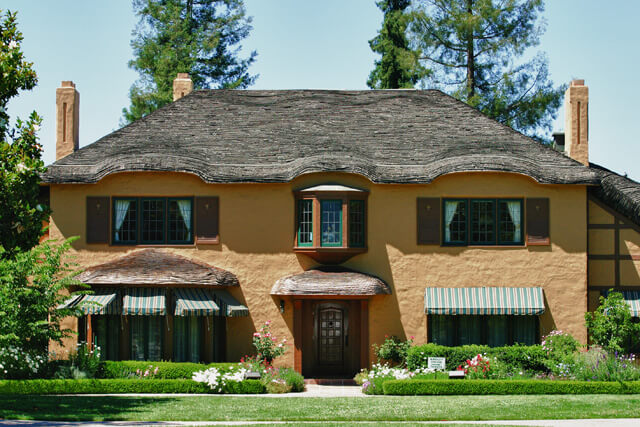 The city of Campbell was founded by a true pioneer, Benjamin Campbell, who arrived in 1846. The historic heart of the city is located on the original 160-acre ranch property which he purchased in 1851.
Benjamin started his farming career by planting hay and grain. Later, he and his wife, Mary Rucker Campbell, subdivided acreage to create a town and railroad station stop in 1887. They had the foresight to realize that fruit from newly planted orchards would one day be shipped. They also knew residents would need a post office so they established the very first in their own home.
The convenience of rail transport caused major canneries and fruit drying ventures to be located by the tracks. Both Ainsley and Hyde canneries became centers for packing and shipping fruit. Buildings of the Hyde cannery remain today south of Orchard City Drive in the downtown area.
The hundreds of workers employed in the fruit orchards and canneries demanded services in addition to grocery stores. As a result, the Bank of Campbell opened in 1895. The building still stands on the northeast corner of Campbell Avenue at Central Avenue. Diagonally across the street, the 1911 bank building remains and is currently used as a restaurant. Other historic buildings may also be seen in the downtown core.
With the development of business, a Board of Trade was established in 1898, eventually becoming the Camp­bell Chamber of Commerce in 1925. Through the years the chamber has sponsored a variety of activities, such as parades and festivals, which call attention to the many positive aspects of living and doing business in the Campbell community.
One of Campbell's most memorable events occurred in 1903 when President Theodore Roosevelt came to town to plant a redwood tree. An offshoot of the tree located at the Community Center still exists.
From the very beginning, Campbell has been shaped by the standards of its various church congregations. Today, interdenominational gatherings are held annually at Thanksgiving and on Good Friday where members of different faiths come together for the betterment of all.
From its earliest beginnings, Campbell was a literary community. The Country Woman's Club, organized in 1905, provided a building to house the library in town, while other service clubs provided for the needs of local residents.
With the encroachment of surrounding cities, residents supported incorporation in 1952. There was not much money to support the newly formed city. The only building the city had in those early years was Fire House No. 1, which still stands today on Central Avenue by Civic Center Drive.
In this small building the city clerk, police and fire departments coexisted. The Congregational Church, built in 1892, was considered the second city facility in 1956.
City Hall remained where it was until the bond issue of 1967 provided the dollars needed to build the current City Hall.
Campbell no longer has orchards and canneries, but instead tranquil subdivisions provide a variety of housing options for residents, and a balanced group of businesses provide employment opportunities. Within the incorporated boundaries of Campbell where history is alive and treasured live just under 40,000 residents.
Campbell is located in the heart of the Silicon Valley, which is regarded as the world's major innovation hub. The "Silicon Valley" has been described as a phenomenon that includes a workforce of 1.38 million people covering 1854 square miles. The Silicon Valley has the attention of industries across the U.S. and around the world.
New business start-ups bring jobs and spur economic growth. The Campbell Chamber of Commerce currently brings in over 80,000 end-user customers a year to our Camp­bell shops, restaurants and service industries. The chamber entertains like-minded entrepreneurs and business professionals through a variety of workshops, networking opportunities, luncheons, and events.
The Campbell Chamber of Commerce creates engagement opportunities where members can make connections with investors, venture capitalist, financial institutions and provides an opportunity to share thoughts and ideas. The chamber is proactive in capitalizing on the economic growth of the Bay Area and is continuously working on bringing that success to the Campbell community.
The Campbell Chamber of Commerce has been connecting people in the community and building lifelong relationships for over 100 years. We are a community that shares in pride and honor. Campbell is the home of the Campbell Veterans Memorial Foundation, which honors all of those in the San Francisco Bay Area and beyond who have served their country.
The city of Campbell has a diverse population of just over 40,000 and encompasses an area of 6 square miles. Incorporated in 1952, Campbell is a general law city run by a Council Manager form of government. Five city council members are elected at large and serve a four-year term in office. Annually they select one of their members to serve as mayor.
Campbell has an ideal location in the heart of Silicon Valley with easy access to Highways 17 and 880 and connections to Highways 85, 101, 280, and 680. The San Jose International Airport is conveniently located only seven miles from the city. The VTA light rail goes through Campbell, which has 3 local stations that help serve the labor force throughout the Silicon Valley.
Population: 42,754
Male Population: 21,247(49.5% of total population)
Female Population: 21,644 (50.5% of total population)
Median Age: 38.9 Years
Proportion of Adults 25 Years and Older with a Bachelor's Degree or Higher: 53.5%
Median Income: $63,985 (16 years and over with earnings)
Number of Households: 16,121
Average Household Size: 2.6 Persons
Population in Owner Occupied Housing Units: 49.2%
Population in Renter Occupied Housing Units: 50.8%
Median Household Income: $122,644
Average Household Income: $161,200
Employment Eligible Population in Labor Force 16 Years and Older: 34,744 (81.0%)
Average Single Family Home Price: $2,289,152
Median Single Family Home Price: $1,827,500
Average Condominium & Townhome Price: $1,142,561
Median Condominium & Townhome Price: $1,135,000
Data Provided By: U.S. Census Bureau, California Department of Finance and Santa Clara County Association of Realtors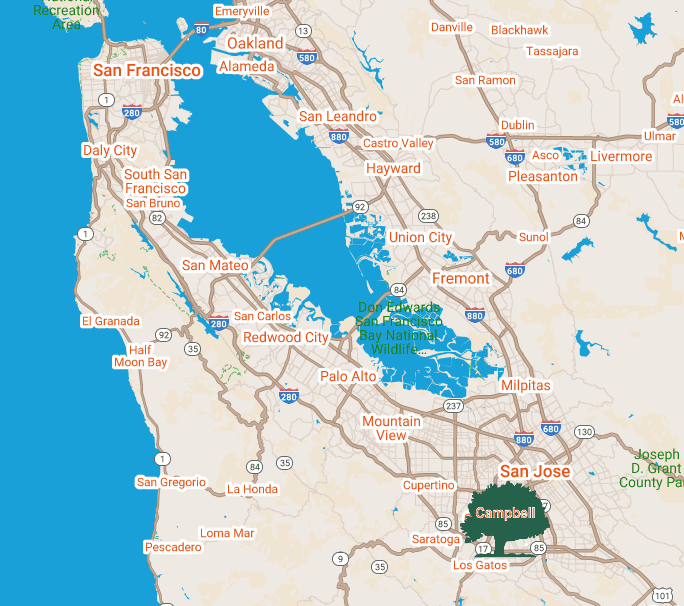 The city of Campbell is fortunate to have the finest medical professionals and the latest healthcare technologies. From simple dental exams, family vaccinations and check-ups to the most sophisticated medical technology available at locations such as the Campbell Optometric Group, residents are safe in the knowledge that help is available and never far away.
There are several significant facilities that serve the community when called upon. The city hosts specialized medical groups, ultrasound and imaging facilities, dermatology centers, retirement communities, clinics, assisted living facilities and nursing homes. Premium health care, coupled with attentive personal care, ensures the health and well-being of Campbell residents and guests.
The team of highly respected medical professionals at El Camino Hospital in Los Gatos and Mountain View as well as Kaiser Permanente in Campbell provides top-quality healthcare to the local community. As non-profit organizations, their physicians get to know their patients on a personal level.