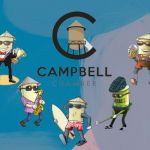 If you live in or frequent Campbell, you know the water tower is an iconic landmark.
For years, the Chamber and the
Campbell Chamber Community Foundation 
have used a likeness of the tower, which we affectionately call "The Dude" for our events and festivals.
We'd like to bring The Dude to life by having a life-size mascot created, complete with all of his attire. Not only will he appear at Chamber and Foundation events, including Celebrate Campbell, Boogie: Campbell's Music Festival, the annual golf tournament, and Oktoberfest, but also at events throughout the Campbell Community.
To make this happen, we need your help. Please consider making a donation to The Dude's Go Fund Me page. Every bit gets us closer to our goal.
Any individual, business, or organization that makes a donation of $500 or more gets to have The Dude at an event of their choice!