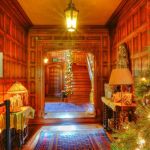 The Ainsley House will be celebrating all season long with holiday events for the whole family.
This year, the Ainsley House will be decorated with a Holiday Alphabet theme. Each organization and business that participates will adorn a room using a letter as inspiration. Holiday tours of the Ainsley House are unguided, allowing you to wander in wonder at your own pace.
Also happening this season are the traditional Ainsley House Teas & Tours and Evening Open Houses.
A Holiday Boutique will be held in the Carriage House and in several rooms on the first floor of the Ainsley House. The boutique will be open Thursdays through Sundays from 11am to 3pm beginning November 17th through December 18th. Be sure to stop by before, during or after your tour to find unique gifts including jewelry, ornaments, clothing accessories and much more.
The Campbell Museum Foundation's Annual Holiday Tea fundraiser, T's the Season, will take place on December 2, 4, 9, 10 and 11, with seating at 12pm. After a delicious afternoon tea, enjoy a docent-led tour of the Ainsley House. General admission tickets are $60 and members tickets are $55.
For more details about all the upcoming holiday events, visit the Campbell Museum website.