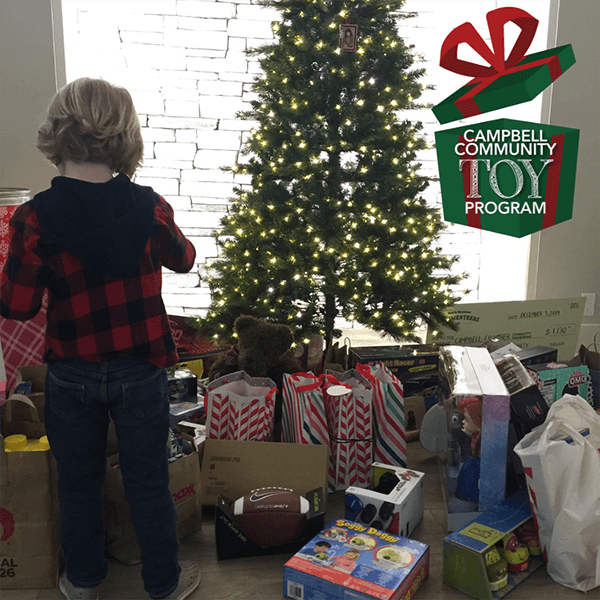 Many people look forward to the holidays and the festivities they bring. But, although we live in an area with considerable wealth, there are many families who don't have the financial resources to have a celebratory holiday meal or buy gifts for one another.
In 1984, Campbell resident Jane Kennedy, who served as Mayor in 2000, 2005 and in 2009, recognized this need and was moved to act. She founded the Campbell Community Toy Program dedicated to providing toys, games, books, and other items to local families to ensure their children had presents to open on Christmas Day.
The Campbell Chamber of Commerce and more recently, the Chamber Community Foundation, have been involved in the program along with other numerous other local business owners and organizations.
The event kicks off in early November when applications are sent out to Campbell schools who distribute them to families who qualify. When applications are returned, the real work begins.
Barrels are distributed throughout Campbell for the collection of new donated items. A variety of community events, including the Pruneyard Tree Lighting, Carol of Lights and Making Spirits Bright, encourage donations.
In 2020, Santa Claus began making appearances in Campbell neighborhoods, spreading cheer and collecting toys.
Donated items are brought to Home Church where they are sorted and bagged based on the needs of each family – how many children and their ages. Groups spend two weeks volunteering to sort and bag the thousands of toys, books, games and stuffed animals received.
Then, delivery day arrives. Families arrive at the Home Church on a Saturday where they are given their bag of gifts, each numbered with a 'code' that correlates to a specific family. The church is filled with hundreds of these bags and dozens of people ensure that "Operation Santa" goes smoothly.
Since its inception almost 40 years ago, the Toy Program has collected and distributed hundreds of thousands of items to tens of thousands of local families and their children.
If you want to learn more about the Campbell Community Toy Program, make a donation, attend an event or volunteer, visit CampbellToyProgram.com.