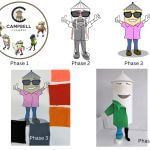 kfrank_kristen@campbellchamber.net
For years, the Campbell Chamber and the Chamber Foundation have used a personified likeness of the iconic Campbell water tower as our mascot. Affectionately nicknamed the Dude, this mascot has been used to market various Chamber and Foundation festivals and events.
The Chamber decided to invest in having a custom mascot made of the Dude that could attend our festivals and other community events. We launched a GoFundMe page to help offset the production costs (custom mascots aren't cheap!) and raised enough to give the project the green light. As a bonus, any person or business that donated $500 or more gets a personal visit from the Dude at an event of their choice.
Due to unforeseen circumstances, the Dude mascot didn't make his planned debut at the Boogie Music Festival, but he will be shaking hands and taking selfies all over Campbell very soon.
Until then, we wanted to give you a behind-the-scenes look at how he was created.
Back in late January, the Chamber reached out to numerous custom mascot companies and decided to go with PromoCostumes, a small business located in Ohio that has been handcrafting mascots since 1998. The company has made well over 600 unique mascot designs, including aliens, pickles, trees, waves, toe fungus (yes, you read that right), Nike's "Swooshy character, and just about every animal imaginable. But the Dude was their first-ever water tower.
The process was a collaboration between the Chamber staff and the team at PromoCostumes that took about three months.
The very first step was providing images of the Dude in all his various attire: his Boogie shirt, Celebrate Campbell tuxedo, Oktoberfest lederhosen, golf gear, and SummerBash swim trunks. We decided to start with making three outfits: his Boogie shirt, SummerBash trunks, and Oktoberfest outfit.
Over the next few weeks, there were detailed back and forth discussions about how and where the Dude would be used and where he would make appearances. We learned more about how the costume would fit, how his clothing would be attached, and the longterm 'care and keeping' of a mascot.
From there, the PromoCostumes Team created a line sketch of the Dude laid over the image of a person to show how the costume would "fit."
Once we reviewed and approved the initial sketch, we received a full color, two-dimensional drawing. This enabled us to request changes to his features, body shape, clothing, and other details.
The next stage was reviewing fabric samples and finalizing colors for the Dude's body, shoes, gloves, and clothing. We decided he needed a basic bright orange shirt instead of a pink button-down so that he could wear it with almost every outfit for every event.
Once all the fabric colors and choices were decided, PromoCostumes created a 3D "half body" mockup, providing a real life visual on how the Dude costume would 'fit' on a person and how his clothing would look.
This rough sculpt phase showed his general shape and scale, where his sunglasses would sit on his face, and where his arms would be.  Scrap foam and fabrics were used, so none of the colors were specific to what his final outfits would look like.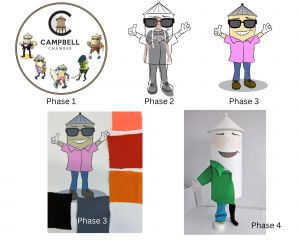 Once the prototype colors, shapes, and dimensions were approved, the creation of the Dude began in earnest.  His body and hat are constructed from lightweight, highly durable foam. He has an underlayer of clothing that match his tower body, which cover the arms and legs of the wearer. The tower body is secured by suspender-like straps that fit over the wearer's shoulders. His 'hat,' glasses and clothing are secured with Velcro and/or snaps. The Dude also has a detachable tower railing, which we plan to 'light up' with LED lights for special occasions. He also has a pair of white gloves and one pair of sensible shoes.
The Dude should be on his way from Ohio to Campbell soon and we already have the first person who'll be wearing the mascot lined up and ready to go (but we're not telling who it is!) They have previous experience and will help set the bar for future Dude performers.
The Chamber is excited that the Dude will finally come to life and be a beacon of goodwill (and fun!) for the Chamber, Foundation, and the city of Campbell.
The Dude's GoFundMe page is still active. If you'd like to donate, visit https://bit.ly/CampbellDude