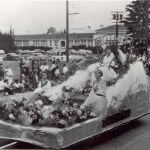 For 131 years, the community of Campbell has been celebrating its earliest origins and the people who made the Orchard City a reality.
Up until 2020, Early Settlers Day was the second oldest California community event second to the Rose Parade. When the pandemic halted the Rose Parade, Campbell was still able to hold our Early Settler's event, which then made it the longest running community event in the state.
Campbell's History
Campbell was founded in 1846 by Benjamin Campbell. He and his wife, Mary, purchased 160 acres, built a home, began farming grain and hay, and started their family.
In 1887, they decided to subdivide their property to create a town and to construct a railroad stop.
In 1892, the first "Early Settlers" event was held, celebrating all that this little township had accomplished.
The Bay Area, known back then as the Valley of Heart's Delight, was ideal for orchards and soon, much of the open area was bursting with newly planted fruit trees. The railroad enabled fruit to be shipped far and wide, and soon canneries and fruit drying facilities sprang up.
Hundreds of workers were employed by these businesses, which led to grocery stores, banks, and other businesses.
In 1989, the Board of Trust was established and in 1925, the Chamber of Commerce was formed.
Campbell was officially incorporated as a city in 1952, but by that time, the community had been celebrating it's history for 60 years.
History of Early Settlers Day
Until the 1960s, Early Settlers Day was a large gathering of families that lived in Campbell. The highlight of the celebration was a parade, with floats elaborately decorated by local organizations such as the Boy Scouts.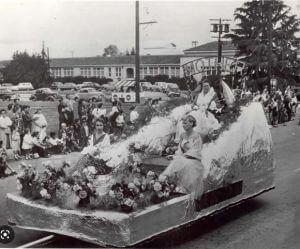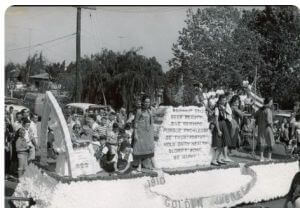 At some point, the parade was phased out, and the event became a smaller gathering featuring a speaker that shared insights and information about various aspects of Campbell's history. Campbell Museum Supervisor, Kerry Perkins, has been a favorite speaker and former Mayor Mike Kotowski, has also shared his knowledge about Campbell at the event.
With most of the event committee no longer in the area, the Campbell Chamber has stepped in to help promote this event.
This year's event will be held on Monday, February 20th from 11am to 2pm. It will be a luncheon with a speaker, but the goal is to eventually revive the parade and make the event a diverse and inclusive celebration of all people who have made Campbell their home, whether they're descendants of the earliest settlers or families setting down roots for the first time.
If you're interested in attending, click here to register.