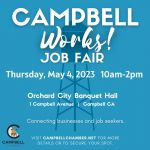 kfrank_kristen@campbellchamber.net
On May 4th from 10am to 2pm at Orchard City Banquet Hall, the Chamber will once again host a job fair, bringing together local job seekers with businesses and organizations in search of employees to fill full, part-time and seasonal positions.
The cost to participate is $75 for Chamber members and $150 for non-members. There is no fee to attend for potential employees.
Registration is now open for employers and space is limited, so be sure to get your application submitted right away!
Additional details will be emailed to you once payment is received.
Job Seekers: